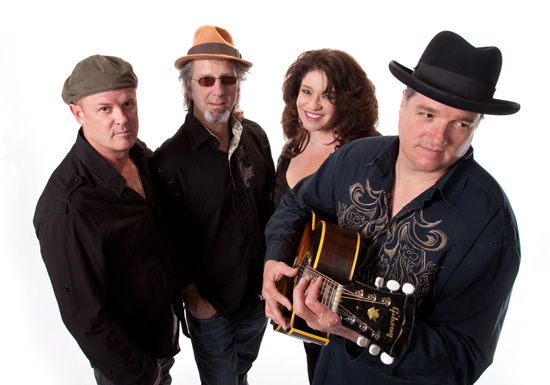 Soul Kitchen featuring Hillary Smith
from Santa Fe, NM
Hillary Smith and Soul Kitchen's latest CD, No Easy Way walked away with five 2009 NM Music Awards, including Best of the Year. Soul Kitchen creates a dynamic blues-drenched sound that musically wanders somewhere between Saturday night revelry and Sunday morning redemption.
Perhap's most popular blues outfits, Soul Kitchen's straight-up blues wanders somewhere between Saturday night revelry and Sunday morning redemption. The Albuquerque-based group features vocalist extraordinaire Hillary Smith, winner of Albuquerque Magazine's 2009 Best Vocalist award; well-regarded guitarist Chris Dracup; and Mark Clark who is presently out on the road with John Popper from Blues Traveler is their regular drummer.
Here are a few points in addition to our Terms &

Conditions that will hopefully make you more comfortable as a volunteer and help us all succeed. If you have questions, never hesitate email me, Jerry Campbell, Tom Davis or Amanda Torres or any Board Member of the Trinidaddio Blues Fest – Volunteer Application may be downloaded at the bottom of this page – Here we go:
This is a "daddio" event! We may define daddio as "cool, under control, smooth sailing". We want everyone who attends to have a great time…including you! There should never be a time when you are called on to be anything other than nice to a patron. If there are unruly folks infringing on the person next to them having a good time too…please alert your "lead" person who will contact security or…if there is a security person nearby…please alert them immediately.
Being a 'Blues Crew' member, people in the crowd may look to you for assistance- please assist them with a smile!
Volunteer levels and benefits…
6- 8 Hours- Tee shirt, Saturday pass and Meal during the fest.
12+ Tee shirt, Pre-Fest Pass, Saturday Pass, Meal during the fest.
All volunteers will be invited to a Volunteer Appreciation Dinner announced after the fest.
Know your lead person and acquaint yourself with your area to know where you would turn for help if you need it. Amanda Torres is the Volunteer Liaison along with help from Tom Davis; so if you have any problem, please don't hesitate to ask.
Please submit your photo for your ID pass no later than August 1st in order to create your ID Badge. Email to: Jerry Campbell. If you've emailed Jerry in the past with your photo, you do not need to repeat this process; a badge will be made for you. However, Jerry may contact you if another picture is needed for any reason.
Please be at LEAST 15 minutes early for your shift to ensure a smooth transition. If you're working the 1st shift – morning, you MUST be on site by 10am. Check-In Volunteer Booth is located at the back entrance to the park accessible from the Smith Ave Entrance. You will receive your volunteer shirt and photo ID badge.
Please empty one 55-gallon trashcan into the large dumpsters and replace the liner at the end of your shift.
EVERYONE should have a Fest bracelet, a Photo ID or the "Trinidaddio" stamp. If you see people in the fest without these…alert them that they need to go to the entrance to pay and escort them to the front gate. You can always contact your lead or use the walkie-talkie at your station to ask security to do this.
If you are serving alcohol…ONLY people with drinking friendly wristbands can be served. Even if they are clearly over 21, you need to refer them back to the ID Check Booth where they show their ID and get the proper wristband. During your shift you MUST be sober – please be aware, you represent the Trinidaddio Blues Fest and should conduct yourself accordingly. Any Volunteer seen drinking during their shift or that becomes intoxicated will be escorted from the Fest, and barred from future volunteer efforts with the Trinidaddio Blues Fest. This is not just Blues Fest policy, but also city ordinance for special events. Trinidad Police Department is in charge of Fest security, and will enforce all regulations.
VIP Wait Staff: You will have your own cocktail jockey booth, and will be serving the back stage and VIP Seating Tents. We will be on a cash basis (no tokens accepted) and each wait staff person will be given a $50 bank, which MUST be turned into the bar at the end of your shift. You will pay your bartender for the drinks ordered before they're given to you; extra pens/pads will be provided should you need additional supplies.
Ticket takers: Anyone can upgrade from a $25 General Admission ticket to a $45 VIP ticket by paying the difference…for example…4 $25 tickets can be exchanged for 3 $45 tickets plus $35, or (2 $45 tickets, but there are no refunds). People can come back with only a "Trinidaddio" stamp, indicating they are a General Admission attendee, and pay $20 and get a wristband for the VIP seating. See me with questions here.
Thank you all so much for your help…we cannot do this thing without you! Have a great "Daddio" time!
I have read the terms and conditions set forth above and would like to volunteer for the Trinidaddio Blues Fest – click on 'I Agree' below to download Volunteer Application.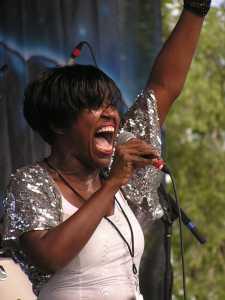 Erica Brown, Blues at its Finest!!
Erica Brown is a bona-fide Blueswoman. She has worked with some of the finest artists in the world, and has shared stages with such heavyweights as B.B. King, Al Green, Delbert McClinton, Tab Benoit, Kenny Neal, Ronnie Baker Brooks, Bob Margolin, and Debbie Davies.
As frontwoman for the Award-winning Erica Brown Band, Erica electrified audiences all over the Rocky Mountain region with the band's brand of searing blues rock. The band won every award the region offered, including Best Blues Band (Westword Magazine) Best Underground Blues Band (Denver Post) and The Rocky Mountain News' Best of in the Blues Category. The band released two critically acclaimed CD's, "Body Work" in 2000, and "Rough Cut Stone" in 2003.
Erica was dubbed "Denver's Queen of the Blues", a moniker that was used by the Altitude Network in their concert showcase feature "OnStage", which was broadcast to five million households in ten western states in 2005. The segment continues to run on Altitude today.
In 2008, Erica went solo, and with the help of a host of top-notch musicians, has been continuing to spread the word of the blues locally, regionally, and nationally!
Erica's credits include:
Her vocals were featured in the Sony Pictures movies, "The Fan", with Wesley Snipes and Robert DeNiro in 1996, And in 2005, the acclaimed CD "African Wind" released by the Northern Blues Label. She lent her voice to several tracks of the 2006 CD "Smoke and Mirrors" released by MojoHand Records. In 2008, Erica sang on the CDs "Beautiful Day" by Two-Time International Blues Challenge Winner Lionel Young, as well as stretching out into Americana on "Cipher" the internationally acclaimed CD by Slim Cessna' Auto Club'. She also contributed to a track on Rock Genius Xiren's CD "Trip-R".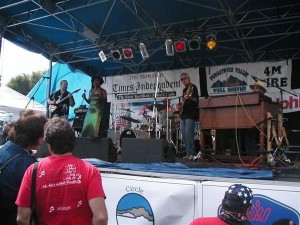 Erica Brown at Trinidaddio Blues Fest VIII
Members:
Erica Brown, Lead and Background Vocals – Bob Pellegrino, Lead Guitar – Ronnie Shellist, Harmonica – R.D. Jones, bass – Gary LaDuke, Drums – Merrian Johnson Lead and Background Vocals