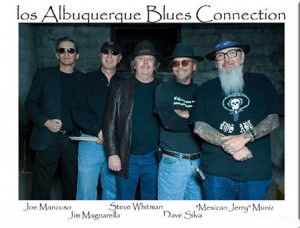 "Ain't Nothin' But the Blues!" – That's the farewell tag on "Mexican Jerry" Muniz's voice mail. Mexican Jerry is the bearded and tattooed leader and singer/harp player for the Albuquerque Blues Connection – "The ABC" – one of New Mexico's longest running blues outfits.
A fierce disciple of John Lee Hooker, Jerry's band boogies hard and has been packing dance floors and festival lawns for almost two decades. With Dave Silva, his guitar and slide playing compadre of 15 years at his side, Jerry calls the crowd out –
"Get Up! Levantase! Time to Boogie!" – and they respond with a roar.
Drummer Jim Magnarella, and bassist Steve Whitman has pounded the bottom lines for 6, so the band runs almost telepathically, able to punch it up or drop it down as the mood strikes.
Even the "newcomer" in the band, Joe Mancuso on harmonica, has been friends and jamming with the group for years.
For Mexican Jerry, a song is a framework to be filled in anew every night, never sung the same way twice. But it's always the Blues. Nuthin' but the Blues. As a special treat for the 2010 Trinidaddio Blues Fest, the ABC brought their good friend and accordionist David Barclay along to add his" NewMexicordian" flavor to the show. – Infomation provided from http://losabc.com/.