Posts Tagged 'Trinidad CO'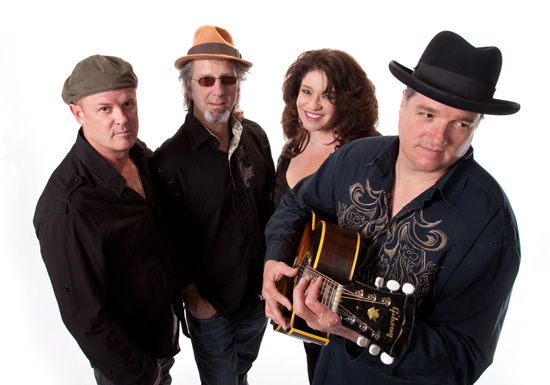 Soul Kitchen featuring Hillary Smith
from Santa Fe, NM
Hillary Smith and Soul Kitchen's latest CD, No Easy Way walked away with five 2009 NM Music Awards, including Best of the Year. Soul Kitchen creates a dynamic blues-drenched sound that musically wanders somewhere between Saturday night revelry and Sunday morning redemption.
Perhap's most popular blues outfits, Soul Kitchen's straight-up blues wanders somewhere between Saturday night revelry and Sunday morning redemption. The Albuquerque-based group features vocalist extraordinaire Hillary Smith, winner of Albuquerque Magazine's 2009 Best Vocalist award; well-regarded guitarist Chris Dracup; and Mark Clark who is presently out on the road with John Popper from Blues Traveler is their regular drummer.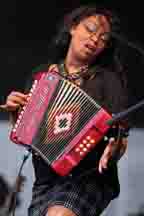 "Today's premier female artist is Rosie Ledet, whose soulful voice kicks her male counterparts' right out of the club."—WALL STREET JOURNAL
"If the Allman Brothers went zydeco they would probably sound like Rosie Ledet." – NEW YORK TIMES
"Ledet is also blessed with one of zydeco's most distinctive voices. Her husky, soulful tones keep the melodies in your head long after the dance floor has been cleared for the night." – WORCESTER MAGAZINE
Rosie Ledet & The Zydeco Playboys have quickly become the act to watch on the zydeco circuit. Brimming with coy sensuality, Rosie's music is fresh and daring, while still retaining its links to its bayou Creole heritage. Rosie has a rare combination of talent, not only in the zydeco world, but in any musical genre. She can write top-notch award winning songs. hand with the best of them on her instrument, and can sing cirlces around her peers. Rosie is among the few zydeco artists who can still sing and write some of theor own material in Creole French.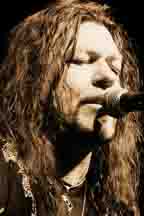 PART HARMONICA VIRTUOSO AND PART rhythmic explorer, Harper is a fiery artist -singer / songwriter who blurs the lines between blues, soul, rock and world music. His latest Blind Pig release, "Stand Together" (2010) is the most artistically realized CD Harper has ever written. By combining traditional and modern influences, borowing from Western and Aboriginal music, Harper has created a highly original take on the roots genre which many have labeled "World Blues". His innovative use of electronic enhancement and feedback, breaks the traditional bounderies of the harmonica, giving his music its distinctive harmonics and effects. The powerful guitar sounds and the unique drone of the didgeridoo create raw yet eerie sonic textures, some how sounding primal and contemporary at the same time. No Depression Magazine,'s Rod Ames, adds that Harper " has written and arranged some of the most soulful blues rock filled music I've heard in quite sometime". Harper's new CD reached number 10 on the Billboard Charts and the US Roots Music Charts. "Stand Together" also reached number 2 on the XM/ Sirius Bluesville national Charts, USA. 2010.
Art Tipaldi, editor of Blues Revue recently described Harper as "a singer with the deep soul of Motown, a harmonica player who can graft Sonny Boy II and Little Walter with John Popper, a songwriter who tells his own compelling stories in an unhurried, J.J. Cale-like manner, and a musical visionary who is unafraid to mix the didgeridoo, an important part of his Australian indigenous culture, with infectious modern percussive rhythms".
Born in the United Kingdom, Harper's musical journey began early, performing in brass bands playing the trumpet and euphonium. At the age of ten, his family moved half way the world to Perth, Western Australia, and his father introduced Harper to the harp. In Perth, one of the most isolated cities in the world, there was a thriving blues and folk scene. The blues had a rawness, an honesty and a passion of the soul which spoke to Harper deeply. Then, like every blues lover, Harper began his journey backwards to discover the deeper roots of the music.
"I think Muddy Waters really hit me hard. There was something incredibly special about his sound, his powerful voice and his songs. I would sing his songs constantly. I also really dug Sonny Boy Williamson II as well. I loved his rhythmic use of his harp. I was also inspired by a pretty wide range of players and styles like Little Walter, Sugar Blue and Stevie Wonder who guide me in my harmonica playing. "But Harper did not stop his search with the blues. It was a chance meeting with a Hopi "Dan Running Bear" in Silverton, Colorado, that led him down the path to rediscovering the music of his homeland. Fascinated with the spirituality and culture of the American Natives, he found the same qualities present in the Australian Aborigines of his homeland. On adding the native didgeridoo to his music, Harper says "It is a sound I grew up with, so it seemed natural to add it to my songwriting particularly when the lyrics related to the plight of the Aborigines in Australia. When I added the didgeridoo to the more traditional blues instruments, it worked. The deep woody qualities and its haunting drone seemed to enhance the emotional quality of my stories. The didgeridoo is a spiritual and healing instrument, and it seemed blues music accepted it with open arms."
Prior to his introduction to American audiences, Harper released six albums to great acclaim in his homeland of Australia. In 1994 he moved to Melbourne, Victoria and released his first album, "Tears of Ice". This was followed by "Yesterday Is Over" in 1996 with his band Blue Devil and "Live At The Soup Kitchen" in 1997 as a soloist. In 2000, he released "Glass on The Stepping Stone" and "Live At St. Andrew's" in 2002. In 2003 he released "Way Down Deep Inside", for which he received two harmonica awards and "Album of the Year" honor from US Magazine's Guide to the Best of the Blues Harmonicas & Beyond. Over the years Harper has received multiple Australian Blues Awards for "Male Vocalist of the Year," "Song of the Year," and "Acoustic Artist of the Year."
His prolific recording career and memorable stage performances allowed Harper to take his music beyond Australia. He's played in the USA, Canada, Germany, Austria, Switzerland, Singapore, the United Kingdom, Belgium and France. He first started performing in the United States in 1996, and has toured here regularly since. It was on one of these tours that he caught the attention of Blind Pig, which made him their first international signing. With a home at a U.S. label and growing appreciation for his music from American audiences, Harper made the permanent move to the U.S. His animated shows have been well received at blues festivals, world music festivals, and by fans of jam band music.Harper has become a huge favorite on the world wide festival scene with 28 festivals booked in 2008, 30 festivals booked in 2009 and 32 festivals booked in 2010. It was during one of these recent festival appearances that Chip Eagle, Publisher for Blues Revue/ Blueswax enthusiastically offered "Harper is the most exciting act on the live scene today". He was also invited to perform harmonica on stage several times with the successful rock band "Journey".
Harper's first Blind Pig release and American debut, 2005's Down To The Rhythm, won accolades from the press for its unique sound and virtuoso performances, coupled with Harper's compositional skill. "Harper is a crack harp player and he plays the instrument with both speed and efficiency, but it would be a mistake to pigeonhole Harper as just an impressive instrumentalist. He is also a solid songwriter, and a soulful singer with a knack for impassioned sincerity," said All Music Guide. BluesWax noted, "There is much to enjoy here: clever songwriting, top-notch guitar, powerful rhythms, and some great Harper harp!
"Harper's second release from Blind Pig Records, Day By Day (2007), provided fans wih another prime example of why his unique roots music style occupies a category of its own. Ramble Magazine raved that Harper's harp and lyrics have " depth of feeling and thought that is unusual in today's music ..Harper's music is essential. It should be widely heard". Downbeat Magazine added "Harper uses his trump cards- a strong and direct singing voice, a stirring harmonica out of Sonny Boy Williamson 11 and Little Walter , a droning didgeridoo – to give his melodic tunes an excitement that suits his intelligent use of blues rock and soul forms". Blues legend John Mayall loved Harper's songs so much so, that he included " Just What Your'e Looking For" as track 2 on his new CD "Tough" (Eagle Records)
Harper is at the top of his game on "Stand Together" (2010), showcasing his trademark powerful soulful voice, virtuoso harp playing, haunting didgeridoo, deeply, soulful grooves and unpraralleled songwrting and compelling lyrics. With his chops at their best and his band "Midwest Kind" sharing his vision, Harper will continue to turn heads of audiences who are looking for orginality, honesty, passion and skill in modern roots music.
.
Dave Specter

Blues guitarist, bandleader and producer Dave Specter has earned an international reputation as one of the premier young talents on the Chicago blues scene. Since 1985 Specter has performed regularly at top Chicago blues and jazz clubs in addition to festivals and concert halls throughout the USA. Since 1989 Dave has toured internationally with performances in Brazil, Israel, Spain, England, Holland, Denmark, France, Italy, Germany, Norway, Belgium, Switzerland, Poland, Luxembourg, Mexico and Canada.
Before forming his own band in 1989, Specter toured extensively throughout the U.S. and Europe behind such blues greats as Son Seals, The Legendary Blues Band, Hubert Sumlin, Sam Lay and Steve Freund. Specter has also performed and recorded with such blues and jazz artists as Buddy Guy, Junior Wells, Otis Rush, Jimmy Rogers, Robert Jr. Lockwood, Jimmy Johnson, Jack McDuff, Johnny Adams, Snooky Pryor, Kim Wilson, Tad Robinson, John Primer, Johnny Littlejohn, B.B. Odom, Mighty Joe Young, Valerie Wellington, Magic Slim, Lonnie Brooks, Willie Kent, Ronnie Earl, Eric Alexander, Otis Clay, Floyd McDaniel, Pinetop Perkins and Sunnyland Slim.
Among Dave Specter's critically acclaimed recordings, his 1991 release Bluebird Blues reached the #1 spot on both the Living Blues national radio charts and the Tower Records blues charts. Blues Access magazine called his CD, Left Turn on Blue, "an absolutely gorgeous blend of vintage blues and jazz." Specter also appears on compilation CDs with artists such as Eric Clapton, Carlos Santana, B.B. King, Muddy Waters and Junior Wells.
Dave's latest CD, Spectified features special guest David Hidalgo from Los Lobos and Brother John Kattke from the bands of Buddy Guy and Otis Rush. "Specter's ninth album confirms his status as one of the few top-tier guitarists." Downbeat 4 Star review.
Specter's guitar playing can be heard on national TV and radio commercials for Kraft Foods and Northwest Airlines. Dave's recently been featured in Vintage Guitar and Downbeat magazines and has been a 5 time Critic's Choice in The Chicago Reader.
Dave endorses Victoria Amplifiers and GHS Strings.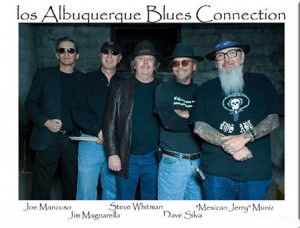 "Ain't Nothin' But the Blues!" – That's the farewell tag on "Mexican Jerry" Muniz's voice mail. Mexican Jerry is the bearded and tattooed leader and singer/harp player for the Albuquerque Blues Connection – "The ABC" – one of New Mexico's longest running blues outfits.
A fierce disciple of John Lee Hooker, Jerry's band boogies hard and has been packing dance floors and festival lawns for almost two decades. With Dave Silva, his guitar and slide playing compadre of 15 years at his side, Jerry calls the crowd out –
"Get Up! Levantase! Time to Boogie!" – and they respond with a roar.
Drummer Jim Magnarella, and bassist Steve Whitman has pounded the bottom lines for 6, so the band runs almost telepathically, able to punch it up or drop it down as the mood strikes.
Even the "newcomer" in the band, Joe Mancuso on harmonica, has been friends and jamming with the group for years.
For Mexican Jerry, a song is a framework to be filled in anew every night, never sung the same way twice. But it's always the Blues. Nuthin' but the Blues. As a special treat for the 2010 Trinidaddio Blues Fest, the ABC brought their good friend and accordionist David Barclay along to add his" NewMexicordian" flavor to the show. – Infomation provided from http://losabc.com/.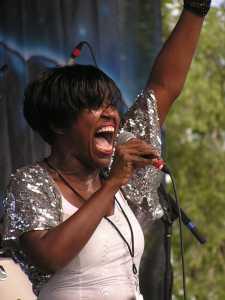 Erica Brown, Blues at its Finest!!
Erica Brown is a bona-fide Blueswoman. She has worked with some of the finest artists in the world, and has shared stages with such heavyweights as B.B. King, Al Green, Delbert McClinton, Tab Benoit, Kenny Neal, Ronnie Baker Brooks, Bob Margolin, and Debbie Davies.
As frontwoman for the Award-winning Erica Brown Band, Erica electrified audiences all over the Rocky Mountain region with the band's brand of searing blues rock. The band won every award the region offered, including Best Blues Band (Westword Magazine) Best Underground Blues Band (Denver Post) and The Rocky Mountain News' Best of in the Blues Category. The band released two critically acclaimed CD's, "Body Work" in 2000, and "Rough Cut Stone" in 2003.
Erica was dubbed "Denver's Queen of the Blues", a moniker that was used by the Altitude Network in their concert showcase feature "OnStage", which was broadcast to five million households in ten western states in 2005. The segment continues to run on Altitude today.
In 2008, Erica went solo, and with the help of a host of top-notch musicians, has been continuing to spread the word of the blues locally, regionally, and nationally!
Erica's credits include:
Her vocals were featured in the Sony Pictures movies, "The Fan", with Wesley Snipes and Robert DeNiro in 1996, And in 2005, the acclaimed CD "African Wind" released by the Northern Blues Label. She lent her voice to several tracks of the 2006 CD "Smoke and Mirrors" released by MojoHand Records. In 2008, Erica sang on the CDs "Beautiful Day" by Two-Time International Blues Challenge Winner Lionel Young, as well as stretching out into Americana on "Cipher" the internationally acclaimed CD by Slim Cessna' Auto Club'. She also contributed to a track on Rock Genius Xiren's CD "Trip-R".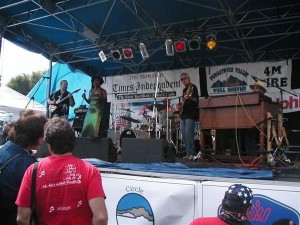 Erica Brown at Trinidaddio Blues Fest VIII
Members:
Erica Brown, Lead and Background Vocals – Bob Pellegrino, Lead Guitar – Ronnie Shellist, Harmonica – R.D. Jones, bass – Gary LaDuke, Drums – Merrian Johnson Lead and Background Vocals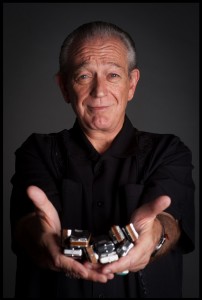 Charlie Musselwhite, The Well
"Superb, original and compelling….harmonica master Musselwhite sets the standard for blues." –ROLLING STONE
On Thursday, May 5, 2011, The Blues Foundation awarded blues master and Alligator Records recording artist Charlie Musselwhite with two coveted Blues Music Awards.
Musselwhite, whose latest CD The Well has been hailed as the best of his long career, received the awards for Traditional Blues Male Artist Of The Year and Best Instrumentalist–Harmonica.
The Well is the first full-band recording in Musselwhite's almost 50-year career in which he wrote every track on the album, and it is the most personal and emotionally open cycle of songs he has ever created. The revealing, autobiographical songs recall specific events and places in Musselwhite's amazingly colorful life. His worldly-wise vocals and masterful harmonica work are perfectly matched with the stories he tells.
The Chicago Tribune said, "The Well is among the best Charlie Musselwhite releases in a career that stretches back to the explosive Chicago blues scene of the 1960s. He is in top form with his deeply personal tales… a formidable talent, he defines the cutting edge in contemporary blues, putting a Chicago accent on his rural Southern harmonica chops."
The 32nd Annual Blues Music Awards were presented in Memphis at the Cook Convention Center.
Harmonica master Charlie Musselwhite's life reads like a classic blues song: born in Mississippi, raised in Memphis and schooled on the South Side of Chicago. A groundbreaking recording artist since the 1960s, Musselwhite continues to create trailblazing music while remaining firmly rooted in the blues. His worldly-wise vocals, rich, melodic harmonica playing and deep country blues guitar work flawlessly accompany his often autobiographical and always memorable original songs. Living Blues says, "Musselwhite's rock-solid vocals creep up and overwhelm you before you know it. He plays magnificent harp with superb dexterity and phrasing. The results are amazing."
Over the last 43 years Musselwhite has released over 30 albums. Three of those — 1990s Ace Of Harps, 1991's Signature and 1993's In My Time — were recorded for Alligator Records and remain among his best-selling titles. Now, Charlie Musselwhite returns to Alligator with The Well. With musical flavors from Mississippi to Memphis to Chicago, The Well is steeped in the music of Charlie's youth — country and city blues as well as rockabilly and gospel — the music that inspired his signature sound. The fresh, new songs speak from his decades of experience, hard living, and his triumph over adversity.
The Well is the first full-band recording in Musselwhite's long career for which he wrote or co-wrote every track on the album, and it is the most personal and the emotionally deepest cycle of songs he has ever created. The Well was recorded at Los Angeles' legendary Sunset Sound with guitarist Dave Gonzales (Paladins, Hacienda Brothers), bassist John Bazz (The Blasters) and drummer Stephen Hodges (Tom Waits, Mavis Staples), and was produced by Chris Goldsmith (Ruthie Foster, Grammy-winning Blind Boys of Alabama). The revealing, autobiographical songs recall specific events and places in Musselwhite's amazingly colorful life. His conversational vocals and masterful harmonica work are perfectly matched with the stories he tells and the near-telepathic musicianship behind him. Simply put, The Well is Charlie Musselwhite at his very best.
Central to the album are stories looking back at hard times and personal healing. Dig The Pain recalls his drinking days, while The Well tells of his recovery. In Cook County Blues, he wryly remembers his short stint behind bars. The most poignant song on the album, Sad And Beautiful World — a duet with Charlie's close friend, legendary vocalist Mavis Staples — is his response to the tragic murder of his 93-year-old mother in her own home (and the house Charlie grew up in) during a burglary. Each track on The Well is a chapter from Charlie's life, and in the liner notes to the CD he offers some very personal insights into the meaning behind the songs.
According to Alligator president Bruce Iglauer, having Musselwhite back on the label is pure pleasure. "I'm thrilled to welcome Charlie back to the Alligator Records family. He's a real icon of American roots music, a brilliant harmonica player and a true storyteller as a vocalist and songwriter. Charlie's a terrific guy to work with, a genuine road warrior who is out there pleasing the fans night after night. We're looking forward to renewing a great relationship." And Musselwhite couldn't agree more, saying, "I don't think anybody is happier than I am being back in the Alligator family. It feels good to be home."
Musselwhite's personal history is the kind of story a novelist would sell his soul for, but his indomitable spirit is crafted by him alone. Tough times have been a huge part of his life, and have shaped him into a true working-class hero. His fans include young hipsters, Vietnam veterans, convicts, bikers, jazz aficionados, aging hippies and hard-core blues fans. He is a larger-than-life musical legend, writing and singing what he calls, "music from the heart." According to Musselwhite, "It's about the feeling, and about connecting with people. And blues, if it's real blues, is loaded with feeling. And it ain't about technique, either. It's about truth, connecting to the truth and communicating with the people."
Born into a blue collar family in Kosciusko, Mississippi on January 31, 1944 and raised by a single mother, Musselwhite grew up surrounded by blues, hillbilly and gospel music on the radio and outside his front door. His family moved to Memphis, where, as a teenager, he worked as a ditch digger, concrete layer and moonshine runner. Fascinated by the blues, Musselwhite began playing guitar and harmonica. It wasn't easy growing up a poor, white boy in Memphis, even among the rich musical influences the city offered. He felt like an outcast and a stranger (themes that have informed, inspired and haunted his music to this day). As a teen, Musselwhite attended parties hosted by Elvis Presley and hobnobbed with many of the local musicians, including Johnny Cash and Johnny Burnette, but the celebrities young Charlie sought out were Memphis' veteran bluesmen like Furry Lewis, Will Shade and Gus Cannon.
Following the path of so many, Musselwhite moved to Chicago looking for better paying work. While driving an exterminator truck as a day job, Charlie lived on the South Side and hung out in blues clubs at night, developing close friendships with blues icons Little Walter, Big Walter, Sonny Boy Williamson, Big Joe Williams, Muddy Waters and Howlin' Wolf. Before long, he was sitting in at clubs with Muddy and others, building an impressive word-of-mouth reputation. Soon after, Charlie was being paid to play in the same South Side neighborhood. Noted blues journalist Dick Shurman says, "The black Chicago blues artists all liked Charlie as a person. They felt that he was one of them — a southern country boy with a deep affinity for the blues."
His first recording, under the name Memphis Charlie, was with Big Walter Horton on the famous Vanguard Records series, Chicago/The Blues/Today!. Signing with Vanguard, Musselwhite (along with Paul Butterfield who was as urban as Charlie was rural) brought the amplified harmonica blues to a new audience of young, white rock and rollers, who discovered that Charlie personified the cool and hip counter-culture icons they admired.
After the release of his first full-length LP — Stand Back! Here Comes Charlie Musselwhite's South Side Band — he was embraced by the growing youth counter-culture and the newly emerging progressive rock FM radio stations, especially on the West Coast. His iconic status established, he relocated to San Francisco, often playing the famed Fillmore Auditorium. Over the years, he has released albums on a variety of labels, ranging from straight blues to music mixing elements of jazz, gospel, Tex-Mex, Cuban and other world music, winning new fans at every turn. He has been touring nationally and internationally for four decades and is among the best-known and best-loved blues musicians in the world.
Musselwhite has guested on numerous recordings, as a featured player with Tom Waits, Eddie Vedder, Ben Harper, John Lee Hooker, Bonnie Raitt, The Blind Boys of Alabama, INXS and most recently Cyndi Lauper. He has shared stages with countless blues and rock musicians. He was inducted into the Blues Foundation's Blues Hall Of Fame in 2010, has been nominated for six Grammy Awards and has won 24 Blues Music Awards. The San Francisco Chronicle says, "Charlie Musselwhite's harmonica playing shows taste, bite, restraint and power. He's one of the best, and as a bluesman, he's as real as they come."
Charlie Musselwhite today is as vital and creative as at any point in his long career. DownBeat calls him, "the undisputed champion of the blues harmonica." In addition to his always-busy schedule, he hosts a weekly radio show, "Charlie's Backroom," on KRSH-FM in Santa Rosa, California (streamed at KRSH.com Sundays at 10:00am PST). He considers himself a lifelong learner and is constantly perfecting his craft. With The Well, Charlie Musselwhite returns with the strongest, most intimate album of his career — a powerful, personal collection of songs. Musselwhite's blues, imparting his hard-won knowledge and working class wisdom, are a window into the deep well of his Mississippi soul.
The band from Left to Right:
Mike Phillips (Bass Guitar), June Core (Drums), Matt Stubbs (Guitar), Charlie Musselwhite