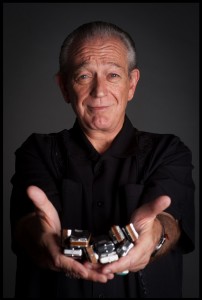 Charlie Musselwhite, The Well
"Superb, original and compelling….harmonica master Musselwhite sets the standard for blues." –ROLLING STONE
On Thursday, May 5, 2011, The Blues Foundation awarded blues master and Alligator Records recording artist Charlie Musselwhite with two coveted Blues Music Awards.
Musselwhite, whose latest CD The Well has been hailed as the best of his long career, received the awards for Traditional Blues Male Artist Of The Year and Best Instrumentalist–Harmonica.
The Well is the first full-band recording in Musselwhite's almost 50-year career in which he wrote every track on the album, and it is the most personal and emotionally open cycle of songs he has ever created. The revealing, autobiographical songs recall specific events and places in Musselwhite's amazingly colorful life. His worldly-wise vocals and masterful harmonica work are perfectly matched with the stories he tells.
The Chicago Tribune said, "The Well is among the best Charlie Musselwhite releases in a career that stretches back to the explosive Chicago blues scene of the 1960s. He is in top form with his deeply personal tales… a formidable talent, he defines the cutting edge in contemporary blues, putting a Chicago accent on his rural Southern harmonica chops."
The 32nd Annual Blues Music Awards were presented in Memphis at the Cook Convention Center.
Harmonica master Charlie Musselwhite's life reads like a classic blues song: born in Mississippi, raised in Memphis and schooled on the South Side of Chicago. A groundbreaking recording artist since the 1960s, Musselwhite continues to create trailblazing music while remaining firmly rooted in the blues. His worldly-wise vocals, rich, melodic harmonica playing and deep country blues guitar work flawlessly accompany his often autobiographical and always memorable original songs. Living Blues says, "Musselwhite's rock-solid vocals creep up and overwhelm you before you know it. He plays magnificent harp with superb dexterity and phrasing. The results are amazing."
Over the last 43 years Musselwhite has released over 30 albums. Three of those — 1990s Ace Of Harps, 1991's Signature and 1993's In My Time — were recorded for Alligator Records and remain among his best-selling titles. Now, Charlie Musselwhite returns to Alligator with The Well. With musical flavors from Mississippi to Memphis to Chicago, The Well is steeped in the music of Charlie's youth — country and city blues as well as rockabilly and gospel — the music that inspired his signature sound. The fresh, new songs speak from his decades of experience, hard living, and his triumph over adversity.
The Well is the first full-band recording in Musselwhite's long career for which he wrote or co-wrote every track on the album, and it is the most personal and the emotionally deepest cycle of songs he has ever created. The Well was recorded at Los Angeles' legendary Sunset Sound with guitarist Dave Gonzales (Paladins, Hacienda Brothers), bassist John Bazz (The Blasters) and drummer Stephen Hodges (Tom Waits, Mavis Staples), and was produced by Chris Goldsmith (Ruthie Foster, Grammy-winning Blind Boys of Alabama). The revealing, autobiographical songs recall specific events and places in Musselwhite's amazingly colorful life. His conversational vocals and masterful harmonica work are perfectly matched with the stories he tells and the near-telepathic musicianship behind him. Simply put, The Well is Charlie Musselwhite at his very best.
Central to the album are stories looking back at hard times and personal healing. Dig The Pain recalls his drinking days, while The Well tells of his recovery. In Cook County Blues, he wryly remembers his short stint behind bars. The most poignant song on the album, Sad And Beautiful World — a duet with Charlie's close friend, legendary vocalist Mavis Staples — is his response to the tragic murder of his 93-year-old mother in her own home (and the house Charlie grew up in) during a burglary. Each track on The Well is a chapter from Charlie's life, and in the liner notes to the CD he offers some very personal insights into the meaning behind the songs.
According to Alligator president Bruce Iglauer, having Musselwhite back on the label is pure pleasure. "I'm thrilled to welcome Charlie back to the Alligator Records family. He's a real icon of American roots music, a brilliant harmonica player and a true storyteller as a vocalist and songwriter. Charlie's a terrific guy to work with, a genuine road warrior who is out there pleasing the fans night after night. We're looking forward to renewing a great relationship." And Musselwhite couldn't agree more, saying, "I don't think anybody is happier than I am being back in the Alligator family. It feels good to be home."
Musselwhite's personal history is the kind of story a novelist would sell his soul for, but his indomitable spirit is crafted by him alone. Tough times have been a huge part of his life, and have shaped him into a true working-class hero. His fans include young hipsters, Vietnam veterans, convicts, bikers, jazz aficionados, aging hippies and hard-core blues fans. He is a larger-than-life musical legend, writing and singing what he calls, "music from the heart." According to Musselwhite, "It's about the feeling, and about connecting with people. And blues, if it's real blues, is loaded with feeling. And it ain't about technique, either. It's about truth, connecting to the truth and communicating with the people."
Born into a blue collar family in Kosciusko, Mississippi on January 31, 1944 and raised by a single mother, Musselwhite grew up surrounded by blues, hillbilly and gospel music on the radio and outside his front door. His family moved to Memphis, where, as a teenager, he worked as a ditch digger, concrete layer and moonshine runner. Fascinated by the blues, Musselwhite began playing guitar and harmonica. It wasn't easy growing up a poor, white boy in Memphis, even among the rich musical influences the city offered. He felt like an outcast and a stranger (themes that have informed, inspired and haunted his music to this day). As a teen, Musselwhite attended parties hosted by Elvis Presley and hobnobbed with many of the local musicians, including Johnny Cash and Johnny Burnette, but the celebrities young Charlie sought out were Memphis' veteran bluesmen like Furry Lewis, Will Shade and Gus Cannon.
Following the path of so many, Musselwhite moved to Chicago looking for better paying work. While driving an exterminator truck as a day job, Charlie lived on the South Side and hung out in blues clubs at night, developing close friendships with blues icons Little Walter, Big Walter, Sonny Boy Williamson, Big Joe Williams, Muddy Waters and Howlin' Wolf. Before long, he was sitting in at clubs with Muddy and others, building an impressive word-of-mouth reputation. Soon after, Charlie was being paid to play in the same South Side neighborhood. Noted blues journalist Dick Shurman says, "The black Chicago blues artists all liked Charlie as a person. They felt that he was one of them — a southern country boy with a deep affinity for the blues."
His first recording, under the name Memphis Charlie, was with Big Walter Horton on the famous Vanguard Records series, Chicago/The Blues/Today!. Signing with Vanguard, Musselwhite (along with Paul Butterfield who was as urban as Charlie was rural) brought the amplified harmonica blues to a new audience of young, white rock and rollers, who discovered that Charlie personified the cool and hip counter-culture icons they admired.
After the release of his first full-length LP — Stand Back! Here Comes Charlie Musselwhite's South Side Band — he was embraced by the growing youth counter-culture and the newly emerging progressive rock FM radio stations, especially on the West Coast. His iconic status established, he relocated to San Francisco, often playing the famed Fillmore Auditorium. Over the years, he has released albums on a variety of labels, ranging from straight blues to music mixing elements of jazz, gospel, Tex-Mex, Cuban and other world music, winning new fans at every turn. He has been touring nationally and internationally for four decades and is among the best-known and best-loved blues musicians in the world.
Musselwhite has guested on numerous recordings, as a featured player with Tom Waits, Eddie Vedder, Ben Harper, John Lee Hooker, Bonnie Raitt, The Blind Boys of Alabama, INXS and most recently Cyndi Lauper. He has shared stages with countless blues and rock musicians. He was inducted into the Blues Foundation's Blues Hall Of Fame in 2010, has been nominated for six Grammy Awards and has won 24 Blues Music Awards. The San Francisco Chronicle says, "Charlie Musselwhite's harmonica playing shows taste, bite, restraint and power. He's one of the best, and as a bluesman, he's as real as they come."
Charlie Musselwhite today is as vital and creative as at any point in his long career. DownBeat calls him, "the undisputed champion of the blues harmonica." In addition to his always-busy schedule, he hosts a weekly radio show, "Charlie's Backroom," on KRSH-FM in Santa Rosa, California (streamed at KRSH.com Sundays at 10:00am PST). He considers himself a lifelong learner and is constantly perfecting his craft. With The Well, Charlie Musselwhite returns with the strongest, most intimate album of his career — a powerful, personal collection of songs. Musselwhite's blues, imparting his hard-won knowledge and working class wisdom, are a window into the deep well of his Mississippi soul.
The band from Left to Right:
Mike Phillips (Bass Guitar), June Core (Drums), Matt Stubbs (Guitar), Charlie Musselwhite
PRESS RELEASE – March 13, 2012
In a special meeting on Wednesday (3/7/2012) evening, members of the board of directors of Trinidaddio Blues Fest, Inc., voted to cancel this year's 14th annual event, planned for Aug. 25 in Central Park.
Citing critical timing issues and other events that are beyond the board's control, Chairman Jerry Campbell announced the nearly unanimous vote to halt plans for the 2012 music fest that has, for the past 13 years, brought internationally recognized blues performers to Trinidad. There were two abstentions from board members concerned about the potential perception of a conflict-of-interest.
"The success of the Trinidaddio has been due to the tremendous support of literally hundreds of hard-working volunteers," Campbell said, "and it has been funded by generous sponsorships from local and regional businesses. We want everyone to understand, this decision was very difficult for the board to make, but the financial risks were deemed too great for us to proceed. I would also like to thank our dedicated and hardworking board of directors for their countless hours volunteering for the fest and the community."
Trinidaddio Blues Fest, Inc., a Colorado 501(c)3 non-profit organization, has donated profits from its annual event to other local service organizations, including Noah's Ark, Trinidad Cancer Alliance, Trinidad Fireman's Toy Drive, Southern Colorado Repertoire Theater and the Trinidad Area Arts Council, among others.
TRINIDADDIO BLUES FEST XIII
Thanks to the great attendance, our generous sponsors and the hard work of a brigade of volunteers, Trinidaddio XIII was a rousing success!
| | |
| --- | --- |
| | Along with a line up that many are proclaiming was the best yet, Charlie Musselwhite served up a healthy helping of down-home harmonica, performing tunes from his latest release, The Well, and setting the bar for Trinidaddio performances! |
Trinidaddio Blues Fest XIII Features Charlie Musselwhite!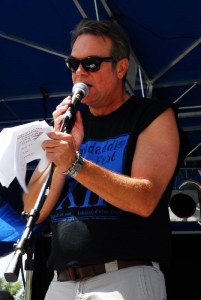 We hope everyone who attended had a wonderful time and enjoyed the event. We are already planning Trinidaddio XIV, and will continue to update the site. Please check in often for updates. Be sure to check out the new mobile site – 2D barcode is at the bottom of this page.
We would also take the time to thank:
Ed Gil De Rubio and all the great folks at the City of Trinidad!
Charlie Glorioso & Trinidad Police Dept!
everyone at Trinidad Correctional Facility!
all of our wonderful Food Drink & Art Vendors!
all the Great Bands!!
Colorado Blues Society for sponsoring the Prefest!
Drew Gatlin & Firemen & Families at the Trinidad Fire Dept!
Trinidad Roundup Association for driving the COG Buses!
Huerfano & Las Animas County Council of Governments for Fest Transportation Vehicles
Everyone who helped and All who attended!
And of course all of our sponsors and volunteers, without whom, this festival would not be possible. If you want to be put on our update list add your email to our blues fest email list located on the right side of this page and we'll keep you abreast of all of the new Daddio happenings.
Thank you,
The Daddio Board
Trinidaddio Blues Fest Vendors