2018 Grammy Nominee
Robert Randolph and the Family Band!

Many musicians claim that they "grew up in the church," but for Robert Randolph that is literally the case. The renowned pedal steel guitarist, vocalist and songwriter led such a cloistered childhood and adolescence that he heard no secular music while growing up. If it wasn't being played inside of the House of God Church in Orange, New Jersey—quite often by Robert and members of his own family, who upheld a long but little known gospel music tradition called sacred steel—Randolph simply didn't know it existed. Read More

2017 Grammy Nominee
Kenny Neal!

If you want to experience the "Real Deal", take time out to find Kenny Neal. One of the strongest modern proponents of Baton Rouge swamp blues, Kenny Neal is a second-generation southern Louisiana bluesman who is cognizant of the region's venerable blues tradition and imaginative enough to steer it in fresh directions. Neal was born on October 14, 1957 in New Orleans. His dad, harpist Raful Neal, was a Baton Rouge blues mainstay whose pals included Buddy Guy and Slim Harpo (the latter gave three-year-old Kenny his first harmonica). Read More

 

2012 Grammy Nominee

C.J. Chenier and the Red Hot Louisiana Band!

Clayton Joseph Chenier was born September 28, 1957 – the son of the great King of Zydeco, Clifton Chenier. C.J.'s father was the first Creole musician to win a Grammy Award. C.J. spent his childhood in the tough tenement housing projects of Port Arthur, Texas. His earliest musical influences were an eclectic mix of funk, soul, jazz and Motown, and his first musical instruments were piano, tenor saxophone and flute. It wasn't until his 21st birthday, after winning a scholarship and studying music at Texas Southern University, that C.J. first performed with his famous father and the legendary Red Hot Louisiana band. Read More

 Dave Specter's Chicago/New Orleans Blues Review featuring Johnny Sansone and Brother John Kattke!

Blues guitarist, bandleader and producer Dave Specter has earned an international reputation as one of the premier talents on the Chicago blues scene. Since 1985 Specter has performed regularly at top Chicago blues and jazz clubs in addition to festivals and concert halls throughout the USA. Since 1989 Dave has toured internationally with performances in Argentina, Brazil, Israel, Spain, England, Holland, Denmark, France, Italy, Germany, Norway, Belgium, Sweden, Switzerland, Poland,  Luxembourg, Mexico and Canada.  Read More

 

2018 BMA Nominee ~ Contemporary Blues Female Artist 

and

  Instrumentalist – Horn!


Vanessa Collier!

"[Collier's] rise to the top has almost been meteoric. She was just nominated for a 2017 Blues Music Award in the category of Best Instrumentalist – Horn…Kudos to Collier."

                    — Richard Ludmerer  Read More

 

Los Albuquerque Blues Connection!

It's not Trinidaddio without ABC!  As Mexican Jerry says: "Ain't nothin but the Blues!"  Read More

 

 Zakk DeBono & the Broken Circle!

When it comes to unforgettable songwriting and amazing guitar playing only one Colorado native is worthy. Making his way to the top of Reverbnation (#1) in Colorado for best blues/rock band with thousands of local bands he has definitely created a BIG name for himself and his band the Broken Circle, which everyone is talking about.  Read More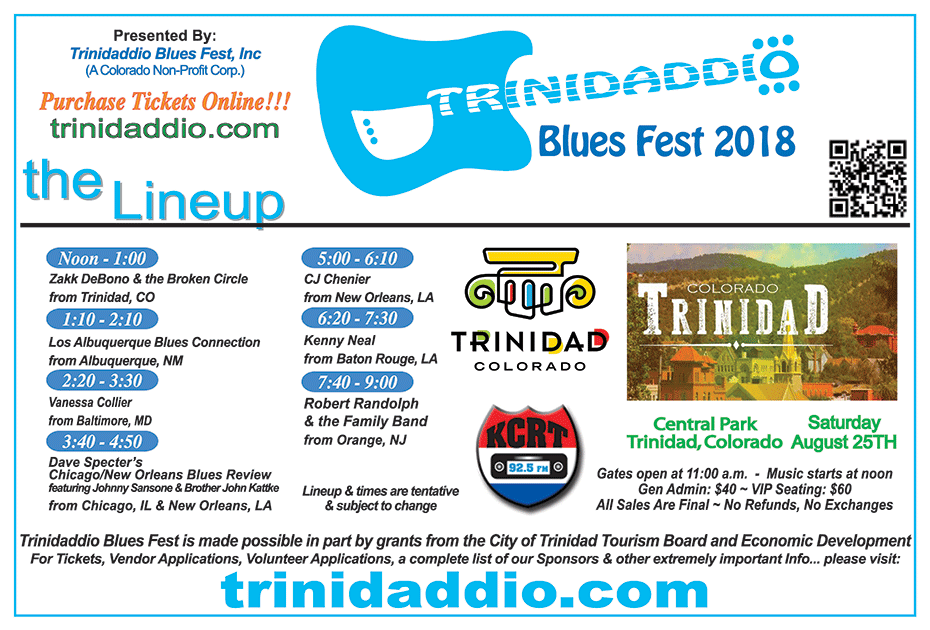 trinidaddio-2018-postcard-back18-03-16Lineup and times are tentative and subject to change.  Click on image to download a pdf copy.
Transportation
Shuttle available for motel/hotel and Trinidad Lake pickup.
Friday August 24 & Saturday August 25th.
Call To Be Announced
Please call only on the Festival dates.
This is not an information line for Trinidaddio.
$3.00 one way or $5.00 round trip per person
It's gonna be a party you don't want to miss!