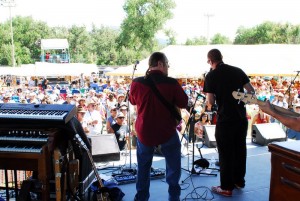 Want to Play at Trinidaddio Blues Fest?
We would Love to here from you…
We are always looking for new artists for the Trinidaddio Blues Fest and the Friday night PreFest Party!
When contacting us, please include number of pieces, asking price and any other pertinent details about you and/or your group.  You may send MP3's, photos of band or musician and/or links to videos.
Email us at: artists@trinidaddiobluesfest.com or
Send correspondence and any marketing material to:
Trinidaddio Blues Fest
Entertainment Committee
1400 San Pedro
Trinidad, CO  81082
We are contacted by hundreds of artists and agencies every year and simply do not have the means to respond to every request.  Anyone being considered for the Trinidaddio Blues Fest or the Friday night PreFest Party will be contacted by the Entertainment Committee.
Any CD's MP3's or other recording submitted for consideration should represent the act as intended to appear at Trinidaddio.  Due to time restraints, recordings with guest artists will not be considered.