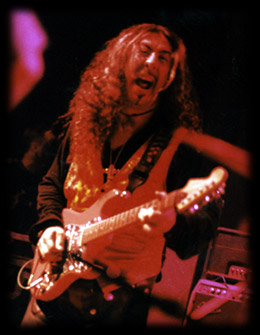 There are many talented musicians on the scene today, but few with the experience and achievements as Emilio Roberto Dominguez (Emilio Emilio). The Emilio Emilio musical experience is a unique blend of American music—a power trio consisting of rock, blues, and funk, with a Latin flair.
The 43-year-old Denver native picked up the guitar at age 12 (drums, timbales, congas, bongo, and bass followed shortly after). Emilio is completely versed in all instruments; however, guitar and timbales are his instruments of choice for live performances. Emilio's parents were very involved in the Chicano Movement, the "Crusade for Justice". In the late 60′s and early 70′s, Emilio and his family would tour the country, his parents giving speeches and Emilio playing guitar in between.
His passion for heavy guitar came shortly after in the mid 70′s and was first inspired by a guitarist named Tommy Bolin, who became his first guitar teacher. Tommy Bolin was a very jazzy eclectic performer who played with Zephyr, Games Gang, and Deep Purple. After Tommy's passing from an overdose in the late 70′s, Emilio embraced Carlos Santana's style of Latin rhythms blended with heavy guitar. At this point Emilio put his guitar away for several years and played only bass and drums in various other local bands. It wasn't until his 32nd birthday that he would pick up the guitar again and form his own band called Emilio.
During Emilio's time away from his beloved instrument, he had the unique privilege of playing music with many legends like B.B. King, Bo Diddley, Louis Johnson, Les Mccan, Eddie Harris, Al Demeola, and Chuck Berry. Emilio was extremely inspired by a man he met by the name of Stevie Ray Vaughn in 1990. Emilio was back stage at Red Rocks, Co. delivering backline for The "Blues on the Rocks" Show and had a 2 hour guitar lesson with the Texas gunslinger. Stevie taught Emilio about "tone", and how to achieve it through mutiple amplifiers, and BIG guitar strings, 13-58.
In 1992 the first year Emilio decided to pick up his ax, he was spotted in Capital Hill, Denver, playing at a little club called Zenobia's by former President Clinton's Campaign team. They asked him, "Would you play for the next President of the United States?" Emilio answered "how much?" The next day Clinton was voted in and Emilio played in front on Clinton and all the other politicals at an old Stapleton Airport hanger. Since then he has opened up for other greats such as: Dick Dale, Big Head Todd and the Monsters, Ronnie Montrose, War, Texas Tornados, Robin Trower, Ted Nugent, and Lynyrd Skynyrd.
Emilio Emilio is planning on touring as much as possible this year and also working on a new studio album.