Trinidaddio Blues Fest 2017
Tickets ON SALE NOW! - We will see you there on Saturday, August 26 - Going to be GREAT!
About Event
Plans for Trinidaddio Blues Fest 2017 are well underway!
3/15/2017 The Fabulous Thunderbirds Featuring Kim Wilson to headline Trinidaddio Blues Fest 2017 on Saturday August 26th!
Check back often for updates!
A special
PreFest Party Surprise

is also in store for all our Daddio's!
Thank You!
Trinidaddio Blues Fest 2016 was a huge success thanks to the generosity of our sponsors!  Special Thanks to the City of Trinidad and The City of Trinidad Tourism Board!  We would also like to express our gratitude to the Colorado Department of Corrections for their continued support and Art-O-Cade for their outstanding effort running our transportation.
Trinidaddio is not possible without the help of an army of volunteers!
Thank You!
Paul Ackerman, Joseph Ackerman, Hayden Alworth, Kris Alworth, Harry Anderson, Steve Anderson, Joseph Antista, John Armijo, Victoria Armijo, Ernest Barela, Melinda Jaclyn Barron, Bill Beaty, Jeff Bigelow, Chris Borrego
Roxanne Briggs, Terry Brown, Rayanne Burley, Camilla Campbell, Jerry Campbell, Maxie Cook, Mary Cress, Tom Cress, Tim Crisler, Jim Cuccia, Joyce Cuccia, Jacki Curro, Loretta Cusimano, Stan Cusimano, Jay Denny
Whitney Dodd, Kelvin Doss, Matthew Doss, Regina Doss, Jason Ellis, Nancy Ellis, Kenneth Encinias, Elizabeth Everhart, Jeff Fleshman, Pat Fletcher, Audrey Forcier, Rusty Goodall, Michelle Goodall, Diel Gray, Edward L. Griego
Kathleen Griego, Karen Griego, Christina (Tina) Guzzo, Smokey Guzzo, Tammy Guzzo, Brad Hagan, Tim Harper, Haskell Hooks, Joan Javernick, Dave Javernick, George (Roland) Johnson, Lee Kirkwood, Terri Kirkwood
Kelly Klovas, Howard Lackey, Nancy Lackey Barbara Legg (Tripp), Gordon Lucero, Valerie Lujan, Judy MacLaren, Laurie Malish (Zuech), Ashley Martin, Lynell Mazza, Lucas McDonald, Sarah McDonald, Christopher Merwald, Morgan Minerrich
Joanne Montero, David Munoz, Tom Murphy, Paula Murphy, Lora Nava, Susan Palmer, Steven Parish, Lonetta Parsons, Pat Patrick Brenda Pecos, Elizabeth (Betty) Ramirez, Gina Raye, Luke Raye, Ivory Raye , John Raye , Tom Reid, Phil Rico
John Romero, Duane Roy, Bill Schaefer, Tom Sciacca, Steve Serazio, Teran Serazio-Seeders, Neil Sexton, Chuck Smith, Mary Strange, Tom Trujillo, Heather Trujillo, Hank Vigil, Kathy Walk, Amy Whitesell, Rodney Wood, Tammy Wooster, Mary Wright
---
Trinidaddio Blues Festival Begins
Steeped in the traditions of Chicago Blues and New Orleans Trinidaddio's Line up always provides a powerful mix of artists and an abundance of Talent.
Join us August 26th for Trinidaddio Blues Fest 2017 you will not want to miss this one. It's going to be great!!
And don't forget the PreFest Party Friday, August 25!  A Free Event!  Downtown at Main & Commercial Sts.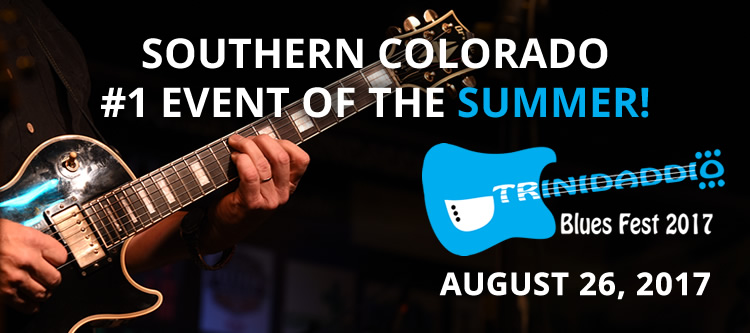 FYI: Colorado Marijuana Laws
Although it is legal to purchase Marijuana and is legal consume Marijuana in the privacy of your own home, it is NOT legal to consume in public pla

c

es.